Guangzhou Landtek Instruments Co., Ltd
  Guangzhou Landtek Instruments Co., Ltd is a professional manufacturer of meters and instruments in China. We have a team of dedication, high professional quality and strong creativity. With our own advantages, we Landtek Instruments constantly integrate international technology and experience into our products. We Landtek Instruments win the trust of users with high quality, high cost performance products and excellent service, and our products are exported to Europe and America.
  Our company is a operating agency of scientific research, development, production, sales, foreign trade and service. The main products are: vibration meter, digital shore rubber hardness tester, coating thickness gauge, ultrasonic thickness meter, tachometer, sound level meter, moisture meter, etc.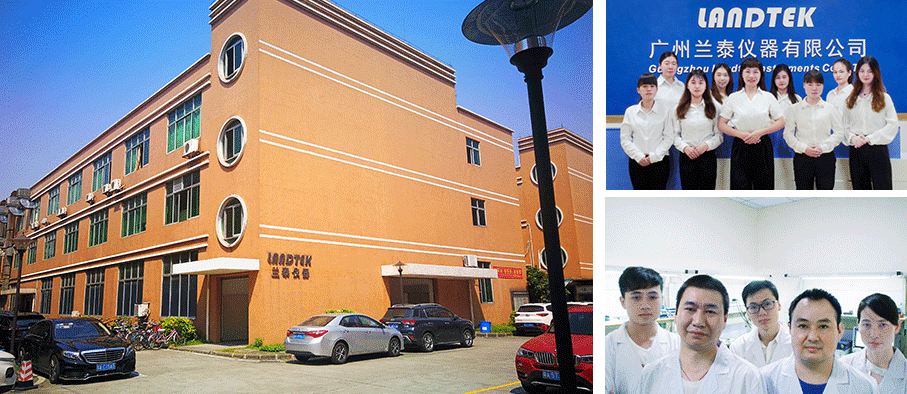 All along, with the strong support from all walks of life and the joint efforts of all employees, the company has continued to develop and occupy a certain position in the instrument industry.
  The company has established the quality control policy of "quality first, user foremost" and the business tenet of being responsible for consumers. Always follow the line of specialization, standardization and modernization.
  The company strictly implements ISO9001 standard and 5S management system, and constantly strengthens product quality control, so that consumers can buy safely and use happily.

The company has built a production line that can meet a certain capacity, and equipped with relevant experimental testing equipment for the development of new engineering products. Its series of products are well received, and the products are exported to all countries in the world.
  Guangzhou Landtek Instruments Co., Ltd. is based on the development of science and technology, respect for talents, put talents in an important position, give full play to the advantages of talents, and now has a group of experienced scientific, technological personnel and managerial personnel. With the strength of technology development, product production and operation management, the company attaches great importance to modern enterprise management on the premise of following the law of market economy and attaching importance to the development of new products and market development, so as to make the company's future prosperous.
  Looking forward to the future, in the new century, in the face of new opportunities and challenges, the company will take today as a new starting point. On the one hand, it will deepen its understanding of the market, adhere to the trend of the international market, so that products can be constantly innovated.
  On the other hand, we should strengthen the development and research of high and new technology, improve the management mechanism of enterprises, and strive for the perfection of products.
  In the future, Guangzhou Landtek Instrument Co., Ltd. will keep up with the pace of the times, keep pace with the times, and continue to develop, with technical advantages, management experience and after-sales service to based on the instrument industry.